Apple needed a cheaper connected speaker to gain market share: in addition to the HomePod at € 329, it unveiled the HomePod mini at € 99 this evening. On the program, less power and sound richness but more features the HomePod mini has a number of features on board.
It is able to recognize multiple voices, provide personalized daily updates and discover smart home accessories, thanks to the integration with the Apple Home app. It will be able to control other smart home devices you've set up in the Home app, so you can dim the lights, lock the doors or change the temperature, for example.
Siri controls the interaction, although you can press HomePod mini to change the volume. Via Siri, you will get full voice control, enabling requests for your music, from services like Apple Music, TuneIn and, in the future, Amazon Music as well.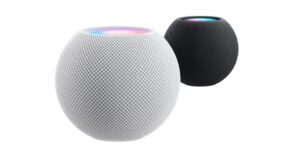 The HomePod mini, unveiled last night, is not a simple miniaturization of the classic HomePod. Apple has indeed changed its design and modified the technologies embedded in its small connected speaker. While waiting for the revision of the large HomePod model, the HomePod mini therefore gains a more powerful Apple S5 chip for sound management and the Apple U1 chip for Ultra Wideband support which allows better management of the connection with the Iphone. But while the HomePod mini does better in these areas, it does worse in others as well.
The first and biggest difference obviously concerns the power of the speaker, which does not have as much trunk as its big brother.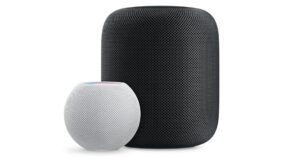 And where the classic HomePod incorporates a set of seven tweeters arranged all around the speaker, the HomePod mini makes do with two tweeters which are insufficient to adapt the audio to the room in which the speaker is located.
The HomePod mini therefore does not support spatial perception, which analyzes and modifies acoustics in real time.
Likewise, it is quite possible to pair one (mono) or two (stereo) HomePod mini with Apple TV but not to take advantage of the future Home cinema mode of Apple TV 4K. Concretely, it will work but the sound will be much less immersive.