Last week, Google announced a new set of privacy tools for some of its most used services : Google Maps, YouTube and Google Assistant.
This may be a sign of growing concerns about tracking digital behavior, particularly location tracking, where Google has introduced a range of privacy improvements including : Incognito Mode for Maps, which prevents Google from saving certain types of data, and removes customization features Of the application.
Google has announced that the feature (incognito mode) for maps will reach Android OS users this month, while it will reach users (iOS) later this year.
The Incognito mode in Google Maps will work in a similar way to the incognito mode in the Chrome browser – first launched in 2008 – and the incognito mode in YouTube – which appeared earlier this year – but as with these services, it's important to We know what stealth limits this new Google Maps service will bring you.
If you haven't yet, check your Maps settings to see if an update is available, install it, and then follow these steps to use the new incognito mode :
While using Google Maps to navigate or share your current location, tap your profile picture at the top right of the screen (next to the search bar).
You will see several options including Turn on Incognito Mode;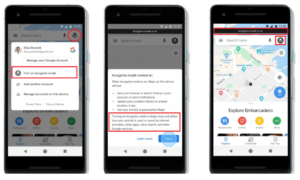 Note that you can also sign out of Google Maps, and don't worry you can still do many of the same things you can do while signing in from your Google Account on either Android or iOS, but when you do, the app will still record and display Things like: recent searches – which won't happen when incognito mode is on – and you can't do things like: share your location with other users, so if you want these types of features, incognito mode provides a way to use them and stop recording them.
Source : wired