Since 2014, the Institute of Electrical and Electronics Engineers (IEEE), the largest global association of technical professionals, has become a barometer of programming languages ​​by delivering in the second half of each year its ranking of the best languages ​​according to various criteria : general popularity, fast-growing languages, languages ​​most requested by employers, the best languages ​​for website and web application development, for mobile application development, for enterprise, office and scientists, and for the development of embedded systems. On September 6th, the organization released its sixth annual ranking, which again places Python at the top for the third year in a row.
Before revealing this year's ranking in detail, note that the data collected for the IEEE rankings come from eight different sources. These include the number of searches on different languages ​​on Google Search and trends from Google Trends. Part of the data comes from the news site Hackers News and sites such as Twitter, Reddit and Stack Overflow, where the organization wanted to measure the sharing of information and resources online and the social activity around each language. programming.
The IEEE has also collected data on GitHub to measure the number of new repositories and active repositories for each programming language. To capture employer demand, the organization also collected data from the CareerBuilder job site, and this year IEEE Job Site data from the IEEE job site measured the number of employees. new job offers in the United States mentioning the different programming languages.
The whole is completed by the own data of the IEEE. The Association of Technical Professionals has a digital library with more than 3.6 million journal and conference articles covering a range of scientific and technical disciplines. These data allowed to measure the number of articles that mention each of the languages.
This year, two metrics used in previous years were removed because the IEEE thought they were not producing good quality data. A ranking system was constructed by weighting and combining a total of eleven indicators from the eight data sources.
The initial selection of this year included nearly 300 programming languages, but the final ranking retained only 52. ​​The following table gives the top 10 of the overall ranking of languages ​​in 2019: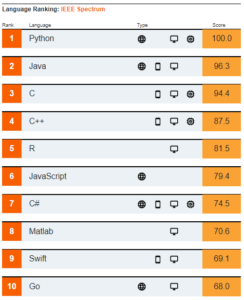 Source : IEEE