Microsoft offers a free tool called "Windows File Recovery" that allows you to recover deleted files in the Windows 10 operating system easily, as it allows you to recover files and documents deleted from the storage drives in your computer – either HDD or SSD – and external USB drives, Even SD memory cards.
However, you cannot use this tool to recover deleted files from cloud storage services, or files that you share across networks.
The new Windows File Recovery tool does not have a graphical interface that allows you to click on deleted files and recover them, but it is based on writing commands, and is available as an application in the Microsoft Store that you can easily install on your computer.
This tool requires the May 2020 version of Windows 10 – also known as (Windows 10 2004) – or a later version of Windows 10 be installed, as it does not work with older versions of the system.
The Windows File Recovery tool allows you to recover a wide range of file types, such as: MP3 audio files, MP4 video files, PDF files, JPEG and PNG image files, and Microsoft application files, such as: Word, Excel and PowerPoint.
It is worth noting that you must use the (Windows File Recovery) tool quickly after discovering the deletion of the file or document in order to be able to recover it successfully, because the data that is deleted from the storage media is recoverable only before any other data is stored on it.
Here's how to recover deleted files in Windows 10 using the new Microsoft tool
Go to the Microsoft Store to download the Windows File Recovery application from here.
Once installed, Open the Start menu and search for (File Recovery), then click on it to run it.
Click (Yes) when prompted to allow the app to make changes to your device.
You will see a command prompt window with admin access, and this is where you will run file recovery commands.
To use this tool; You will run the command (winfr), specify the drive from which you want to recover files, and where you want to save the recovered files, since the deleted file must be saved when recovering to a different drive other than the one that was deleted from it.
In the command prompt window, enter the command in the following format:


source-drive: is the name of the drive from which you want to recover files.
destination-drive: The name of the drive where you want to store the recovered files.
[/ switches]: are the various keys that control what the tool is looking for and how it is looking for. For example: When recovering from an operating system drive (usually C), use the "/ n " and "(/ y: ") switches to specify user or folder files.
Microsoft automatically creates a recovery folder for you called Recovery next to the recovery date and time on the drive you specified to save recovered files.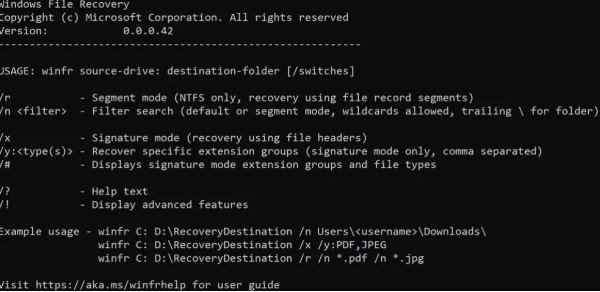 Source : Microsoft