Android vs iPhone, which is better? What is the most beautiful? What is most appropriate? Questions that smart phone users have been asking for a long time, until this comparison formed a social division all over the world without any exaggeration, and perhaps a class division as well. What distinguishes Apple products from others to be the most expensive and most unique?
Perhaps these questions provoked Google recently and it can no longer tolerate repression and arrogance, as you know it is one of the developers of the Android system that cannot be underestimated, and regardless of the extent of the development of the largest search engine in history, the class distinction will be made between users on any So, in the United States, for example, an Android user is considered poor, even if he owns a Galaxy S21 ultra, whose price may reach $1,200, as well as in the Arab world, we find the obsession with the apple is widespread.
Although there are different reasons why people find iPhones distinct from others, Google believes that the reason is the exclusive iMessage app for iPhones, which creates a state of racial discrimination between Apple and Android users, so what is the story behind that strange accusation?
How did Google express its outrage at the persecution of Android users because of the iMessage app?
On Saturday, January 8, 2022, the head of the Android development team, Hiroshi Lockheimer, accused Apple of adopting a policy of bullying and racism to pressure smartphone users into selling its products, after the Wall Street Journal revealed through its own report that Teens in the United States of America classify people according to the color of the messages they receive. If you send an iPhone user via SMS, they will receive your message in a green bubble indicating that you do not have an iPhone. If you are an Apple user, your messages will be colored blue, creating A case of persecution and racism towards the owners of green messages!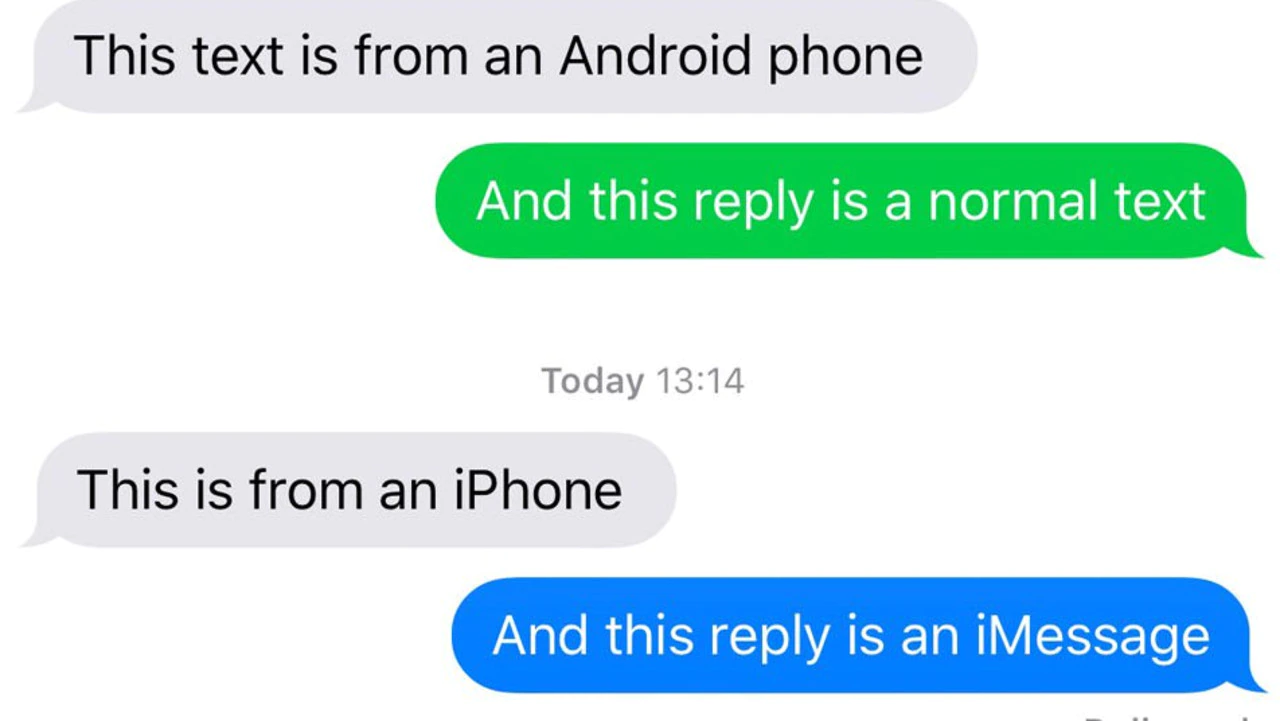 In his accusation of Apple, which he wrote on Twitter, Lockheimer stated that "closing iMessage and making it exclusive to iPhone users only is a well-known strategy that Apple follows, as the use of peer pressure and bullying is a way to sell products, which is hypocritical for a company that considers humanity and equality an essential part of marketing campaigns. The standards that exist today are enough to fix this."
Apple's iMessage lock-in is a documented strategy. Using peer pressure and bullying as a way to sell products is disingenuous for a company that has humanity and equity as a core part of its marketing. The standards exist today to fix this. https://t.co/MiQqMUOrgn

— Hiroshi Lockheimer (@lockheimer) January 8, 2022
Lockheimer's tweet was posted on the official Android Twitter account, adding the following description:
iMessage should not take advantage of bullying. Texting should bring us together, and the solution is there. Let's fix this as one industry.
Then followed the statements of the CEO of Google, "Sander Pichai", in which he stated:
We won't ask Apple to make the iMessage policy available on Android phones, but we'll ask them to support RCS or "Rich Communication Services" standards in iMessage in the same way that they support legacy SMS and MMS messaging standards.
Lockheimer later added, through a series of tweets, in which he stated that "by refraining from integrating Rich Communication Services (RCS), Apple will disrupt this industry and distort the user experience and thus reduce it, and this is not only for Android users, but for their customers as well."
Apple is silent about these accusations related to the iMessage app
For starters, there are some questions about Apple's motives for pursuing the acquisition policy. Thanks to the lawsuit filed by Epic against Apple last year over Apple's practices in the iOS App Store, some discussions were leaked under the table through secret emails between Apple executives, confirming The company is intentionally blocking iMessage.
In April 2013, Apple CEO Craig Federighi wrote bluntly:
I'm worried about making iMessage available on Android phones because that could dilute iPhone sales in favor of the other, so we need to get Android users to rely entirely on Apple products.
And Phil Schiller, one of the "Apple Colleagues" who is honored with this title from within the company, stated in March 2016 that he had missed many messages from friends and family after switching to an Android phone.
The Verge asked Apple if it intended to make its standards available in RCS development, to which Apple responded by ignoring and not responding, although we cannot deny that the company provided an ethical case of respect for privacy and considered it a human right and that providing encrypted messages to The world is their duty.
But now that Apple is worth more than $3 trillion, and its "dirty laundry" has been "disseminated" through emails to the world and the public tone of its employees, and many magazines fighting it, CEO Tim Cook is likely to look into The company is more than just scaling the company the most valuable in the world, so perhaps it could bring iMessage to Android or help develop RCS services and make them available to everyone as a kind of privilege that Apple could introduce to the world.
How did Apple deal racistly with users?
Google accused Apple of adopting inhuman strategies aimed at dividing smartphone users in order to "polish" the image of iPhone phones and consider Android users second class, and this is evident in the iPhone's iMessage policy.
The messaging service from Apple includes a number of features exclusive to the iOS operating system, such as support for sending animated emojis "Animoji" and the ability to send pictures and videos as well as texts over the cellular network or Wi-Fi, and messaging in iPhone phones is known to distinguish Android users by the arrival of their messages in color Green instead of the original blue for iOS as we explained earlier.
This strategy has turned iMessage into a symbol of Apple bragging, causing pressure that has built up over the years and giving Android users an inferior and sometimes ostracized, all of which is what drives sales for Apple. For the division of opinions and class in society?
What is the real motive behind Google for these accusations?
Google has always tried to outperform the iMessage application, by developing its rival application, which it just called "Messages", and then began working on spreading it among users, and even convincing major companies such as Xiaomi to install it on their phones and dispense with their own applications, and the result was that the number of alternative downloads reached Google billion downloads.
However, Google was not really able to convince users to rely on its application as it could not outperform what Apple offers in its own application, and now after these accusations and direct statements from Google that it wants to work with Apple to provide a better experience for everyone, this may be the real motivation For the company, which made her wear the dress of "Ambassador of Humanity" in order to achieve it.
Of course, the company will benefit greatly from Apple making iMessage available on Android, as Google has recently also been pushing iPhone makers to support the next generation of text messaging standard (RCS), and it has succeeded in this and has already been supported by major US carriers.
And Google isn't in a position to criticize other companies' messaging strategies, Ars Technica comment editor Ron noted on Twitter: "The search giant Google has been notorious for its dysfunction when it comes to messaging, so it's launched thirteen different messaging apps since iMessage came out. 2011, but most of them failed.