Global end-user spending on public cloud services is expected to grow 23.1 percent in 2021 to $ 332.3 billion, from $ 270 billion in 2020, according to the latest forecast from Gartner, Inc.
"The events of the past year have enabled CIOs to overcome any reluctance to move critical workloads from on-premises sites to the cloud," said Sid Nag, vice president of research at Gartner.
"Emerging technologies such as containerization, virtualization and edge computing are becoming more common and driving additional expenses in the cloud. Clearly, the pandemic has served as a multiplier for CIOs' interest in the cloud."
Despite macroeconomic trends, offerings that support or provide public cloud services are experiencing tremendous growth. Software as a service (SaaS) remains the largest market segment and is expected to reach $ 122.6 billion in 2021, as demand for composable applications requires a different type of SaaS experience (see Table 1). Infrastructure as a Service (IaaS) and Desktop as a Service (DaaS) will see the fastest growth in 2021, respectively 38.5% and 67.7%, as CIOs face continued pressures to evolve the infrastructure that supports moving complex workloads to the cloud and the demands of a hybrid workforce.
Table 1. Global Public Cloud Service End User Expenditure Forecast (USD Million)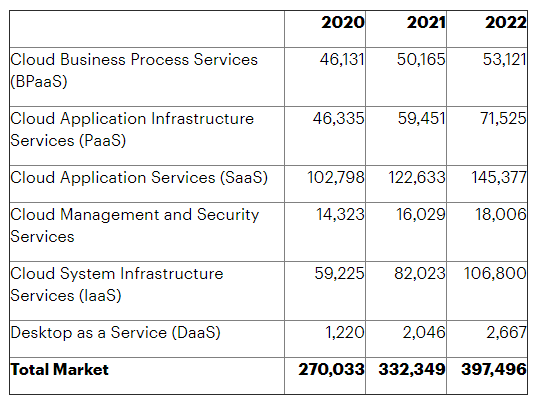 BPaaS = business process as a service; IaaS = infrastructure as a service; PaaS = platform as a service; SaaS = software as a service.
Note: Due to rounding, totals may not add up.
Source: Gartner (April 2021)
As organizations mobilize for a massive global effort to produce and distribute COVID-19 vaccines, SaaS-based applications that enable essential tasks like automation and supply chain are essential. These applications continue to demonstrate their reliability in managing vaccines at scale, which will help CIOs further validate the current move to the cloud.